Last Week:
Gavin reached his LTW and first TOC in Intelligence and his IW of §100k, Ashley received a plaque for culinary and maxed out her lifetime aspiration, Alana transitioned to child, Zeke transitioned to toddler and Brielle was born.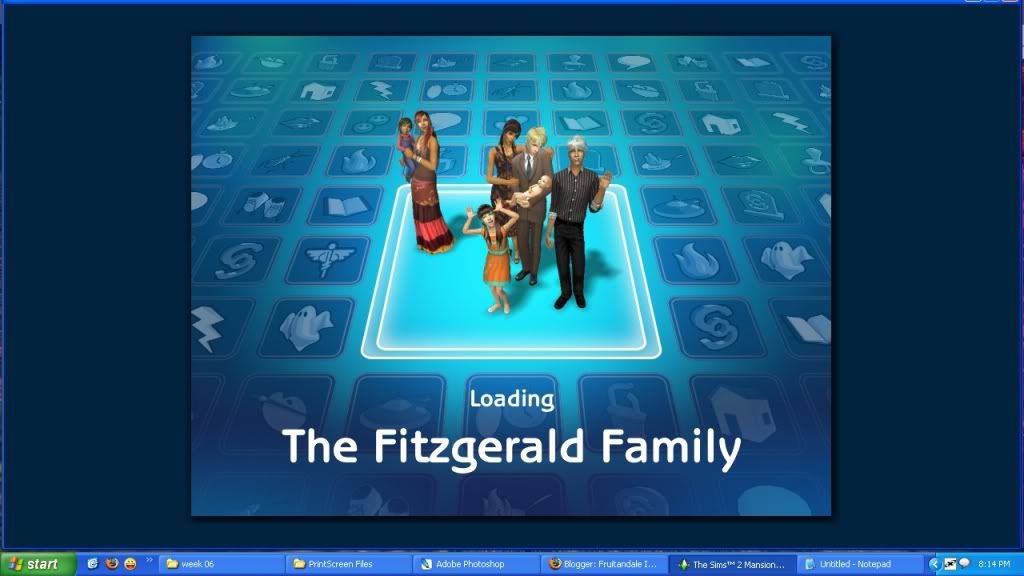 This family is always very busy. As much as I enjoy having things to do, their house is so full it tends to run sluggishly at first. I think I just need a new computer. Anyhow, lets get this family though another week.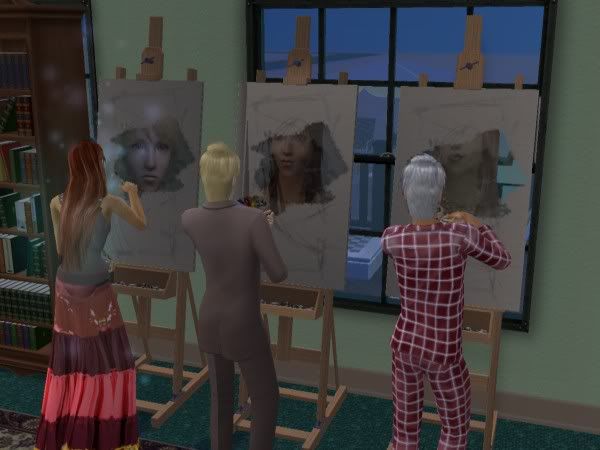 As the crew ages, I decided to prepare the
basement for the mausoleum
. Nice work guys, keep it up.
Andrew: I don't know why you bother. You wont allow me to age.
I don't know what you're talking about… *fidgets*
Andrew: Nice try. You know darn well you had me use the last wish for long life.
Ya well… I have plans for you.
Andrew: You have… hmmm…
What?
Andrew: I suddenly got nervous.
*giggles*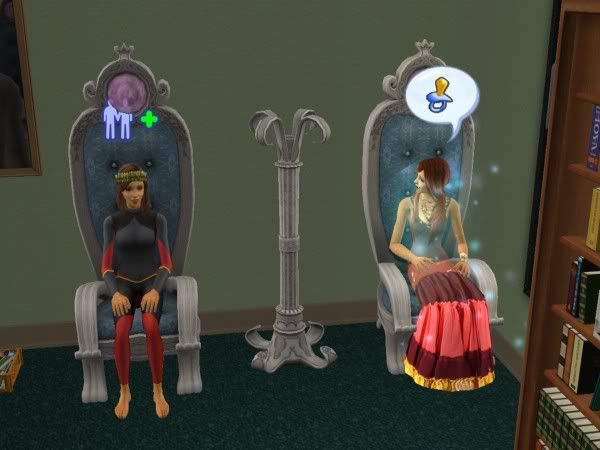 Ack! *pokes Ashley* What are you talking about? No, no one is having another baby.
Ashley:
*rubs her side* Relax, we're discussing her current children.
Whew, okay. Just don't go having any ideas.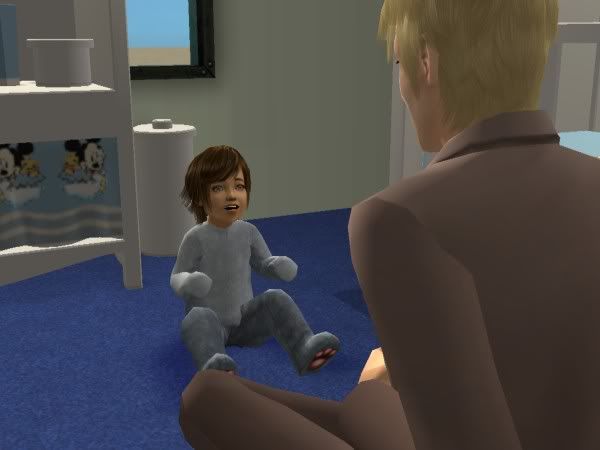 This boy is just so sweet. Seriously. He gives me toothaches.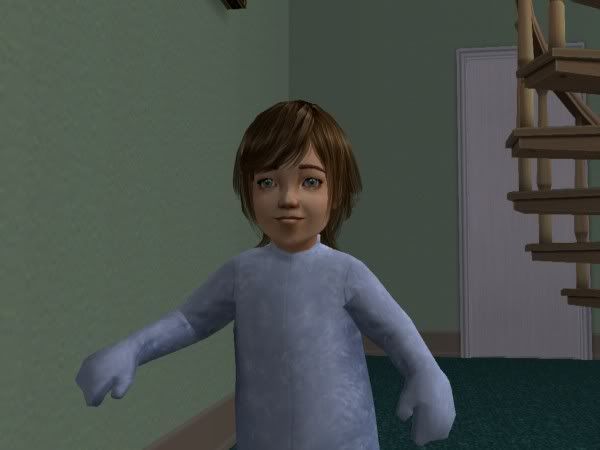 Alright Sport,
lets transition
. *blinks* Pink? Really? You have other pajamas you can change in to, but we'll do that in the morning. Go ahead and sleep in that nasty get up for now.
Zeke:
I like my jammies.
Don't be so metro, it's the style I hate more than the pink. Now go on. You're about to pass out where you stand.
Zeke:
Mkay, ni ni!
*grins* I told you the boy is a sweetie.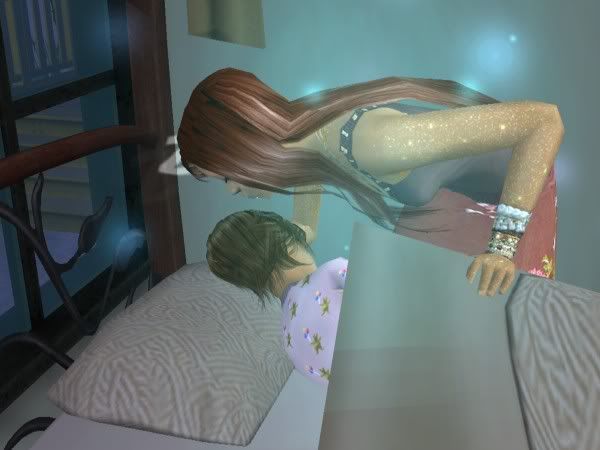 Ashley! Don't get soft on me.
Ashley:
Relax, I just love my nieces and nephew.
This is the first time you've tucked any of them in. Are you sure you're not getting weird maternal cravings?
Ashley:
Ugh, no. I don't want children.
Whew!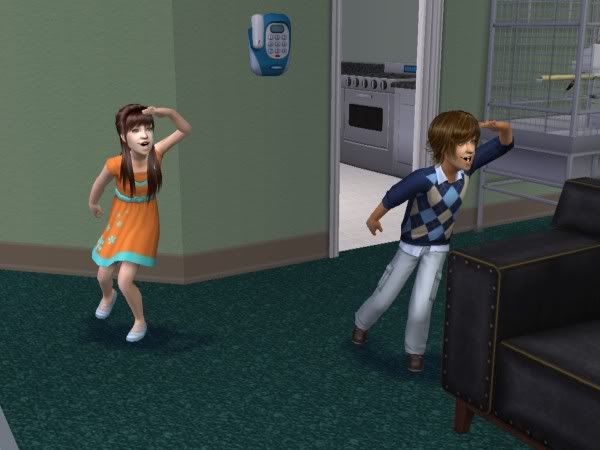 Alana and Zeke are getting along famously. I'm really trying to keep peace between my simmies. I want everyone to get along… well mostly with Grandpa.
Andrew: How can I give anyone an inheritance if you don't let me go?
What is your fascination with death?!
Andrew: I've lived my life, Roo. You really need to let me go.
*pouts* Eventually…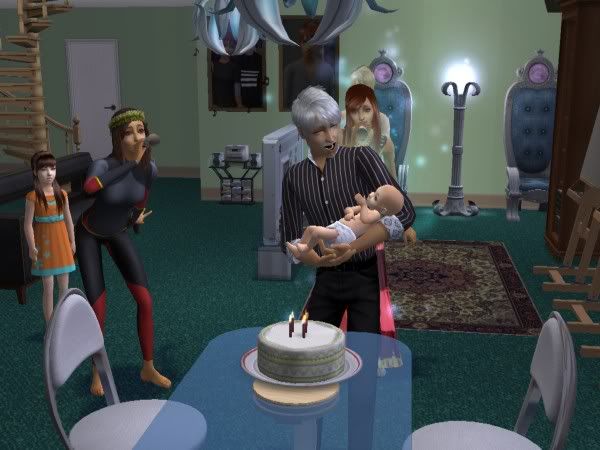 Brielle has a birthday too. Andrew helped her transition.
She's a cutie
… more pink… *sighs*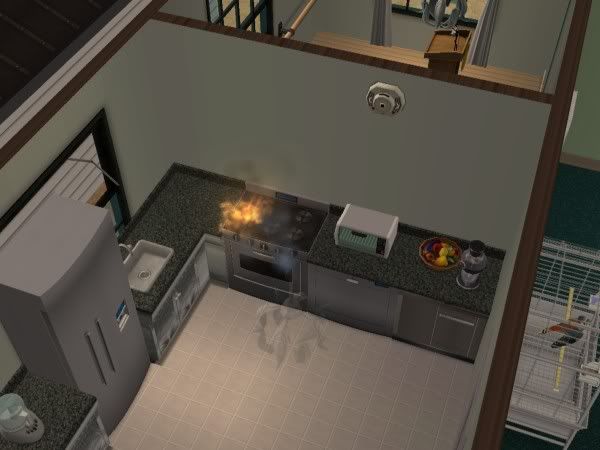 I still want to beat the butler. A fire broke out in the kitchen… why? He put poptarts in the oven. Then walked away and
made cereal
. Where was he when all this transpired? Out in the back still
serving the cocoa puffs
.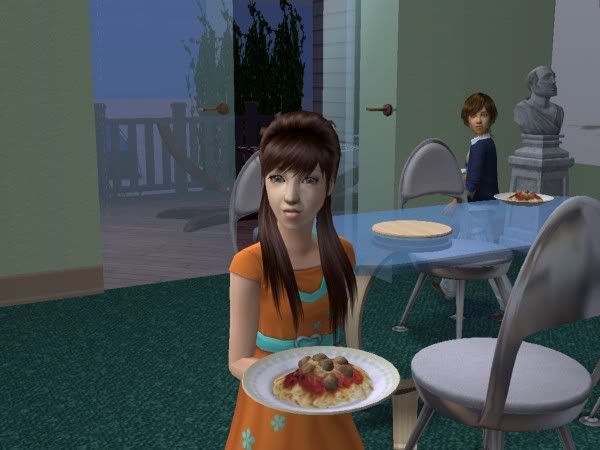 What's more is no one is ever hungry. They drink eggplant juice if they need sustenance and he insists on cooking… often… *sighs* There are lots of leftovers in the fridge.
As I've mentioned on the yahoo board, Gavin is 'missing'.
Gavin: *sighs* I'm not missing…
Gavin, we can't see you. You're invisible.
Gavin: See? I'm not missing… I'm just invisible.
Don't get technical on me. While some animations are
fun to watch
him do while invisible, I miss seeing our guy. So I am going to take Phoenix's advice and send him downtown… later, right now its Brielle's birthday, followed by Alana.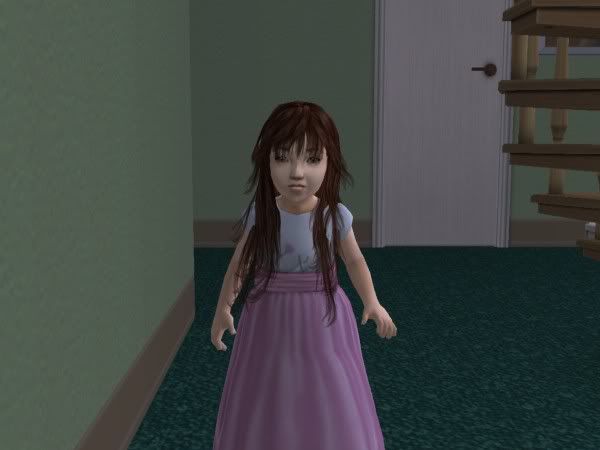 Okay Brielle, spin for us…
hopefully out of pink
. O.o
Brielle: I like pink.
Too bad! Your daddy made you an outfit. Ah,
much better
. Now its your sister's turn.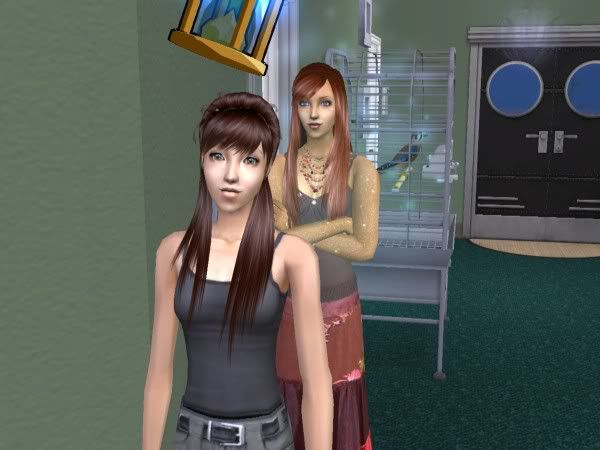 Alana Fitzgerald – Aries
Aspiration – Fortune
10 neat, 10 outgoing, 9 active, 3 playful, 1 nice
LTW – Become a Space Pirate
Seeing how our girl is a fortune sim, I got her an afternoon job… which
she got TOC
her first day at work.
I also got them in to private school… which I managed to forget pictures of…
Gavin: *clears his throat*
Yes?
Gavin: I went through all that work… again… invisible… and you forgot pictures…
Yes.
Gavin: *facepalm* Unbelievable…
*shrugs* Get over it.
End week accomplishments:
Andrew… did whatever Andrew does… Ashley turned Alana in to a witch (much to Gavin's displeasure), Gavin reached his
second TOC
, Olivia reached her
second TOC
, reached
platinum lifetime aspiration
and got a silver in sewing, Alana transitioned to teen, reached TOC of athletics, got a bronze in gardening, silver in fishing and became an over achiever, Zeke and Brielle transitioned to children.
Points:
5 points
On-going subtotal:
57 points