Last Week:
Luis reached TOC in intelligence, and achieved his LTW, reached full Lifetime Aspiration; Meadow reached TOC in education and got a job in the artist field; Miranda reached TOC in both culinary and dance, got #23 simultaneous loves towards her IW and sold a fab tell most novel; Caplan transitioned to teen, reached TOC becoming an over achiever, and got abducted; Emma transitioned to teen and Tiago transitioned to toddler.
I realize something about my game play. When it comes to romance sims, I'm pretty darn good at getting them their loves. Providing there is nothing going on to distract me. Think about it, last week Miranda made it to 23. Seriously? I only got her 3, count them, 3 loves in a week. That wont do. They have enough money now, Miranda gets her own conquest shop.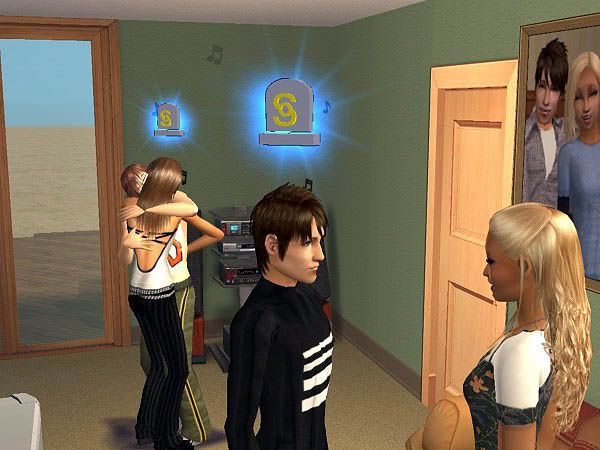 Andrew's passing does not go unnoticed in this house either. *takes a steadying breath* Thanks Andrew.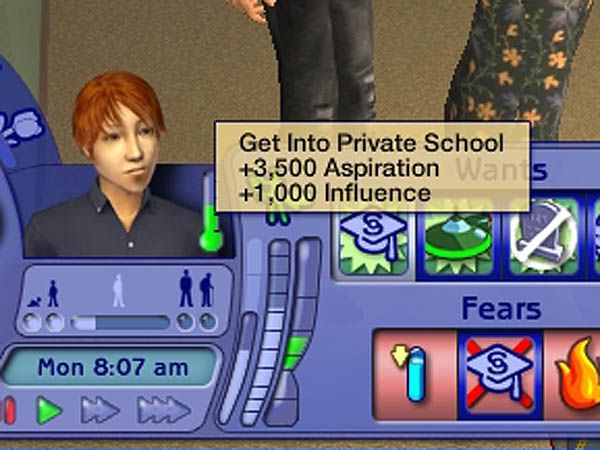 What? Wait, what is this? Caplan wants to get in to private school? Why aren't they already in… never mind it doesn't matter. That is doable, we'll take care of that soon.
Calpan:
Really? Its about time.
Again with the attitude. *pokes Caplan*
Caplan:
*rubs his chest* Ow, hey!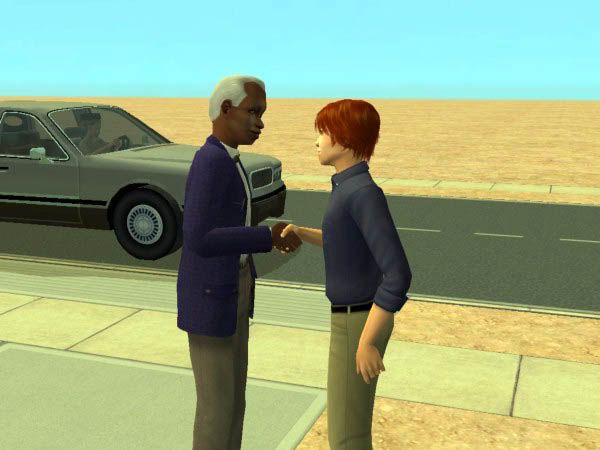 So we called the headmaster. The only one not home was Luis, no big really. We didn't need him to be home.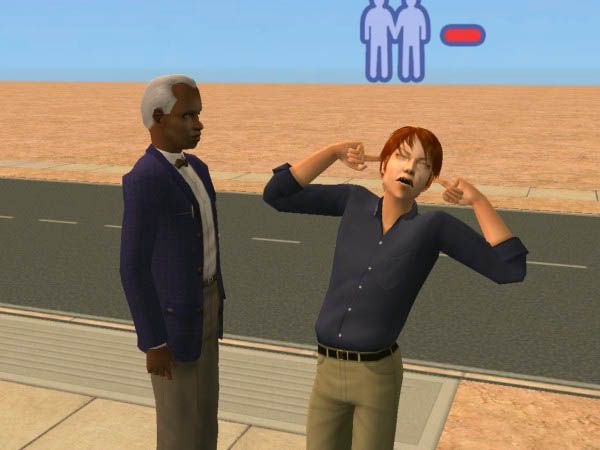 Sadly, Caplan had even less luck speaking with the headmaster than Gavin did. At least Gavin never childishly put his fingers in his ears doing the 'lalala, I can't hear you" trick.
Caplan:
The man is an idiot.
Possibly, yet you still need him in order to attend that private school you so desperately want to go to. So I sent Meadow in to talk to him, still didn't help matters. She then proceeded to show him around.
Miranda is the best cook in the house, so I sent her off to make the grub while Meadow did the tour.
Miranda: Pork chops are easy, hardly a challenge.
Fine, because Meadow is done giving the tour and he has yet to be impressed with any conversation to date. Go talk to BJ.
Miranda: My pleasure.
And it was, oddly enough. I panicked and stopped the conversation prematurely though, apparently it doesn't help much when you do such things.
In the end they managed to eek by.
Miranda: You probably should have waited until Tiago was old enough to attend school. You'll have to do this again.
Yes, well… I didn't think about it until much later. *shrugs*
Emma is a family sim that wants to fall in love and have her first kiss. Well bully for you, that date last week was a fiasco and we aren't forking over lots money again.
Emma:
*checks herself out in the mirror* I need to have a husband so I can give my mom the grandchildren she needs.
I realize that, its just you have very… odd… likes/dislikes. I mean fit without being athletic? That is a tough one.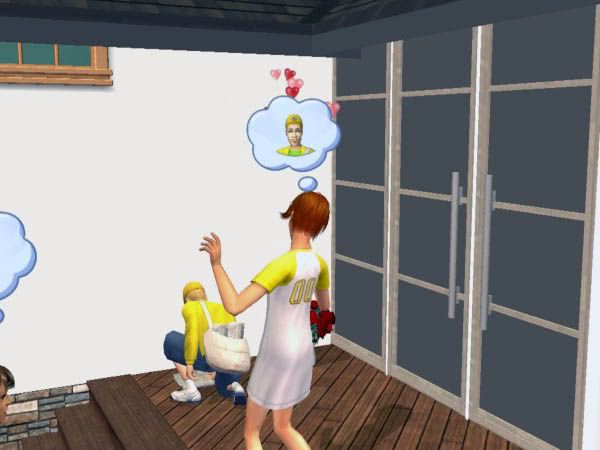 Emma:
Not really. The paper boy is dreamy!
Derek? Ooooooh … well… no. You can't have him. I wont have it. Nope. I don't think so, sorry.
Emma:
*heart farts* He's so hawt!
*blinks* No he isn't…
okay he's cute now
but
that profile becomes very prominent
when he ages to adult.
Emma:
He's so cute…
You're pretty danged annoying. Fine. Say hi to him and you can call him after school. Now go. Shoo!
Emma:
*squeals* Thanks, Roo!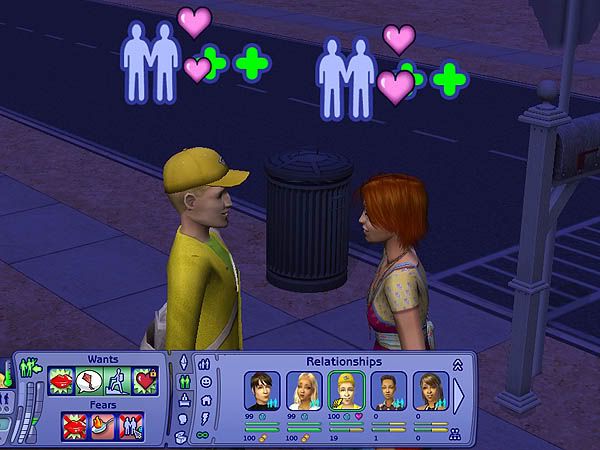 That night we find out why Emma keeps heart farting over Derek. Three bolts, that is impressive.
Emma:
Can I keep him? Puhleeeeze?
Not at this rate. Step it up. You need to best friends in order to take him with you to college.
Emma:
No problem!
And she was right… it wasn't, not only did they become best friends, she
got her first kiss
and he fell
madly in love with her
. She should have been a romance sim, the girl has talent.
Emma:
Oh ew! I want a family! I want a husband and kids, no romance stuff.
Just remember you only get three kids, four tops.
Emma:
But!
Say good-bye to Derek.
Emma:
No! Okay, four kids.
It's Tiago's turn to transition. Thankfully he is a
rather self sufficient adorable toddler
. Usually I'm not a big fan of the infant/toddler stage. Yes, I realize I'm not 'normal'. Then again, 'normal' is rather subjective.
Tiago is still a handsome little guy. I look forward to seeing
how well he grows up
. Shame he wont be breeding.
Tiago:
What?
Breeding. As in you will never have kids.
Tiago:
Why?
Because you were an unplanned child, I only need Caplan and Emma to have kids.
Tiago:
Yes, but I'm better looking than Caplan.
Possibly, yet irrelevant.
Tiago:
Where do babies come from?
From woohoo. You get a girl pregnant and she has a baby.
Tiago:
Hmmm… girls are icky. Maybe not having kids is a good thing.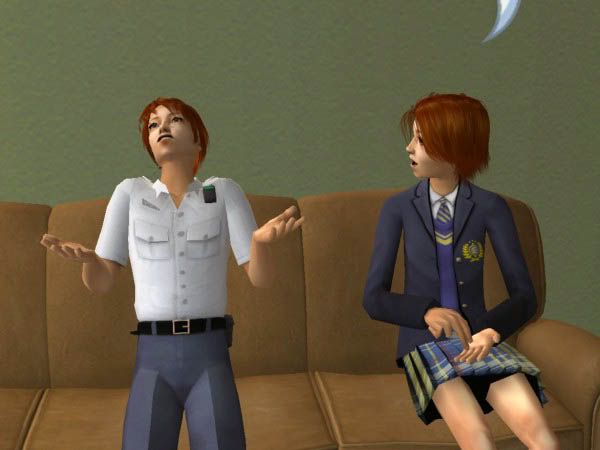 Right about now I realized I had forgotten something.
Caplan:
Finally! I was wondering when you'd get around to me.
What? Oh no, I'm not talking about you. I realized I hadn't had
Miranda turn Emma in to a witch
yet.
Emma:
Not everything is about you, Cap.
Alright Caplan, now we're talking about you. Or more accurately, Katherine.
Caplan:
She's cute.
She will give you pretty babies.
Caplan:
Woohoo? Now you're talking.
Check the hormones Casanova. Be glad you
got your first kiss
.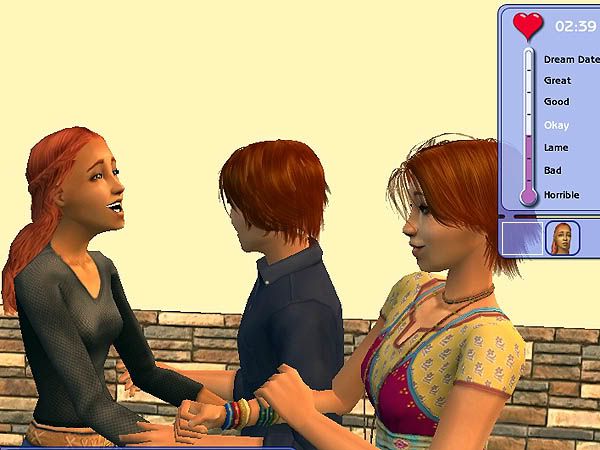 There is a problem with Katherine though. When I had Caplan ask her on a date, I noticed something was missing… her aspiration. Turns out Katherine is one confused young lady. She thinks she still needs to grow up. Let's hope she grows out of this.
Caplan:
Well I don't have to settle for this chick. There will be plenty of girls in college.
She may be only one bolt now, but it can change once she has an aspiration.
Caplan:
*raises an eyebrow* Or I could lose the one bolt I have with her now.
It's a risk I am willing to take. She's cute. End of discussion. I had
both of the kids
call in their
scholarships
before I packed them off to college.
Now, about Miranda… I had her buy the smallest lot and sent her on her way, she wasted no time and started calling and summoning. Ready?
Miranda: Ding!
Miranda, I told you this is not WoW.
Miranda: Oh I know, but it gets your attention quickly.
True, what do you want?
Miranda: I got another LTW.
Ah, congrats. Shame you only get points for the first one… lets continue shall we?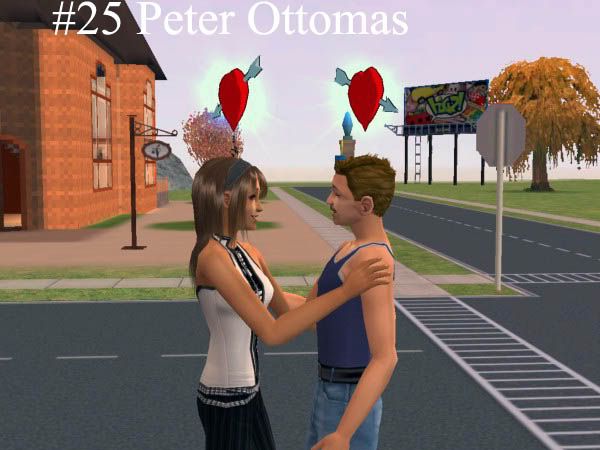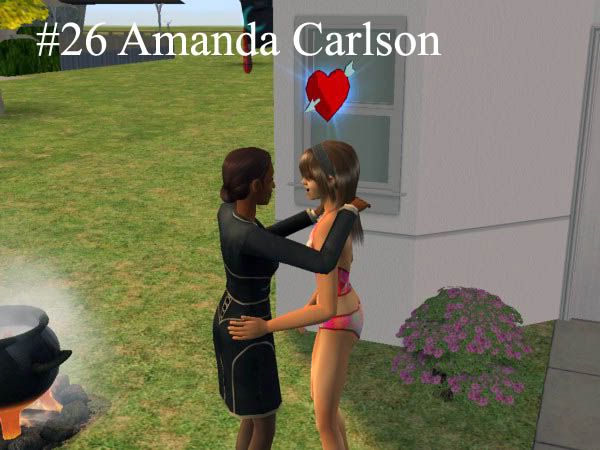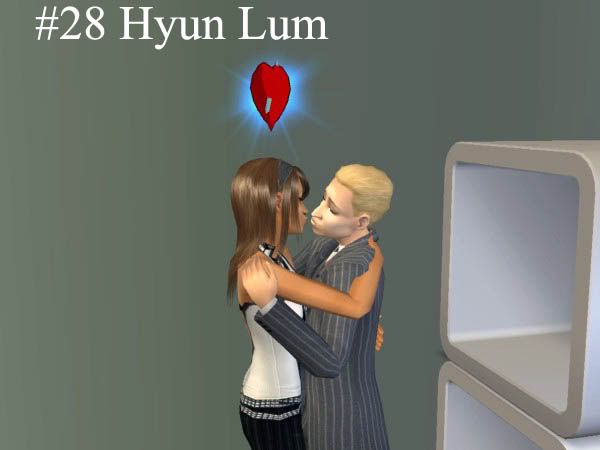 Miranda: Ding!
Yup, we did it.
Thirty simultaneous lovers
. So… now we have a conquest shop… for nothing… I guess we just hold on to it for the next romance sim in the family.
End week accomplishments:
Luis got a
gold badge
in robotics and earned
his plaque in tinkering
; Meadow reached
TOC in artist
; Miranda reached
top of her lifetime aspiration
, her IW of 30 simultaneous lovers, LTW of woohoo 20 different sims and reached the
top of her social reputation
; Caplan grabbed his scholarships and moved to college; Emma grabbed her scholarships, became a witch and moved to college; Tiago transitioned to child.
Points:
8 points
On-going subtotal:
78 points