Last Week:
No one was in college so I was able to skip university. That means this week we have all new comers.
Katherine did not take growing up very well. As you can see, she was not happy with this transition, lets hope her future gets brighter. She also continues to believe she needs to grow up. I'm hoping I can wait until the end of her sophomore year in order to correct that. I also realized someone was missing… Mr. 3 bolts is not here. Oops?
So I exited the lot, grabbed the brat and threw him in to the dorm with the rest of the freshmen. *raises an eyebrow* Looks like he's
already giving me attitude
… I have ways to deal with these types of sims. Let's hope he is a quick study. *smirks*
Huh, I apparently don't have a very good picture of Derek. *shrugs* Well here he is anyhow.



Derek Vijayakar

– Virgo
Aspiration – Knowledge
1 neat, 7 outgoing, 6 active, 4 playful, 4 nice
LTW – Become City Planner
So the kids did their thing. Met people, made nice
with the blazer bunch
and naturally they all became
friends with Amar
who promptly gave each admission to
the Greek House
.
Okay seriously… what is the big deal with Derek? They stand around waiting for a chance to talk to him.
There are a few changes that happened their freshman year… one major one in particular. *grins* Emma and I had a bit of fun
trying out her new spells
.
I got impatient. Katherine was platinum, so I sent her to the cement mixer to get fixed. She rolled knowledge. *sighs* oh well, Caplan is knowledge, so this works out just fine. *pokes Katherine* Get to it missy.
What? Wait, what the… no! Katherine don't do it! *cringes*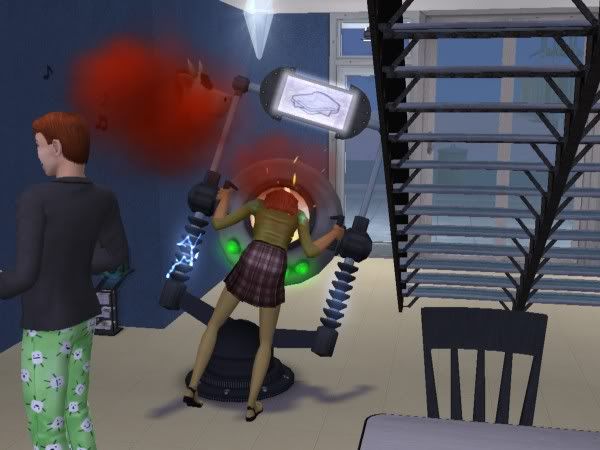 Katherine Wong

– Aquarius
Aspiration – Grilled Cheese
4 neat, 4 outgoing, 4 active, 7 playful, 6 nice
LTW – Eat 200 GC Sammiches
*headdesk* I've never gotten this LTW accomplished…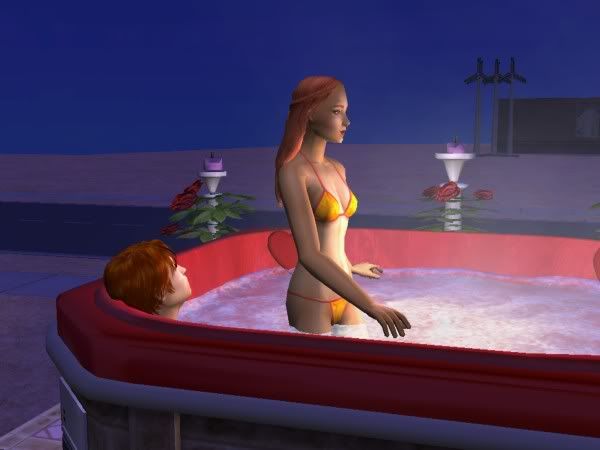 Thankfully Caplan still thinks she's pretty hot. So I'm happy to say
she's still a keeper
.
Caplan: Emma, we need to talk.
Emma: No we don't.
Caplan: Em… come on… its me. Talk to me, what's going on?
Emma: Don't get in my way, Cap. Brother or not, you can't win.
I've created a monster…
Caplan: Roo…
Hmmm?
Caplan: What did you do to Em?
Me? Nothing… *grins* Okay she's no longer neutral, she's evil. Don't you just love her?
Caplan: Yes, yes I do… change her back.
Nope! She likes who she is. You want her to be happy don't you?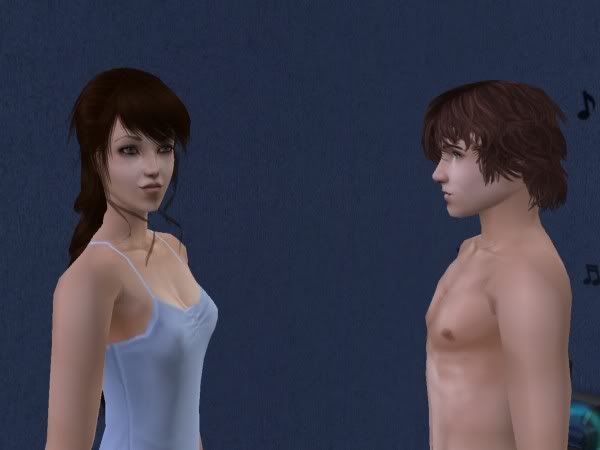 So this brings us to the end of their freshman year, now we move them all to the Greek House. *tilts head* Uh… Alana… what gives?
Alana: They're all very nice… but
they look at me funny
.
They want to do naughty things to you.
Alana: I'm a good witch! Why would they want to hurt me?
Ah sweet naïve Alana. Not bad things, just… naughty…
Alana: Oh. Should I let them?
*blinks* No. Time to move you out of the dorm.
Alana: Okay.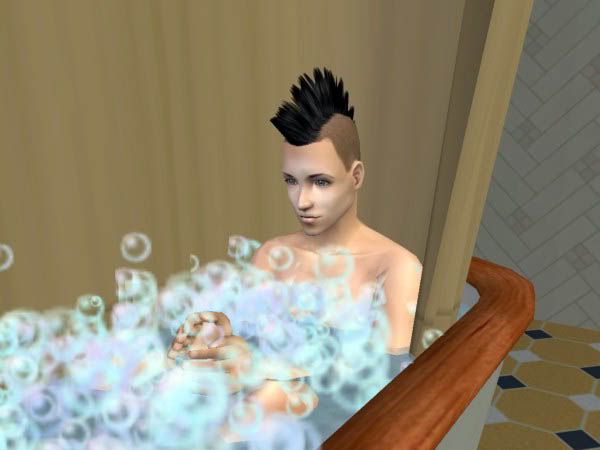 There you are… erm, Amar when you're done its time to call the new crew in.
Amar: I'm doomed to townie status again. *sighs*
Uh… ya… looks like it.
Amar: I could have been good for Emma. We're both family… we have 2 bolts…
Yes, that is very true. Unfortunately Derek is 3 bolts. So he won.
Amar: That third bolt wont last.
Oh? Do you know something I don't?
Amar: He's a knowledge sim. How long can he hold out before he becomes too athletic?
*blinks* Good point…
Amar: When it happens… don't forget me.
Amar: Hey Caplan… ya its time. I'll be here… for now.
Oh the self pity is just annoying… really.
Amar: Nah, its okay. At least this way, I stay young forever… right?
That is a good point. Glad you're taking this so well. Much better than last time.
And the gang has arrived. Naturally, I was too quick to get
these guys to move in
. Thankfully I had one more to move in when I remembered
their books and cauldrons
. Once I had all 5 safely moved in, I sent Amar
back to his townie
goodness.
Something happened during their sophomore year that I hadn't expected. Emma's aspiration was running to red. She was prompted to date her beau Derek. *blinks* Anyway, she had a rather… unexpected want. Sorry Emma, that is not gonna happen. If you fall in love with anyone else besides Derek, it wont be him… from ugh to uglier. Sheesh! That is also when I noticed Amar was right… Derek is no longer holding his 3 bolts. They've dropped to 2.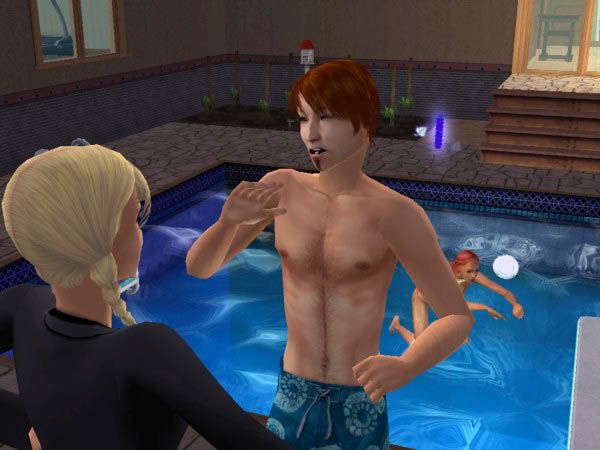 Caplan: Hey! What gives?
Don't fight it. It's a good thing. Just go with it.
Caplan: You're enjoying this…
*snickers* Yes. The
faces you make
are priceless.
Caplan: Oh hey…
not so tight
, Love.
*laughs* Oh, now you're enjoying yourself.
Caplan: I'm a knowledge sim. I enjoy learning new things, new… experiences…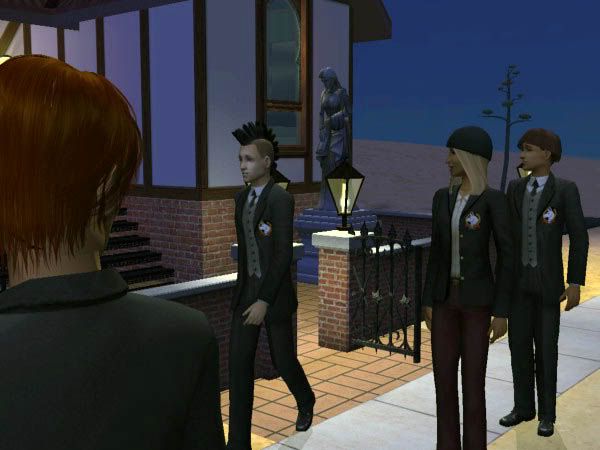 Caplan: Amar?
Yes, he's originally a blazer boy. I had your uncle Gavin bring him in to the GH to be a placeholder.
Caplan: So he stays in college forever?
Or until I find him a wife and let him graduate.
Caplan: Who will take over if that happens?
That bowl headed guy, John. He's cute if he got a hair cut.
Caplan: What about the chicks? That
Maura is a looker
.
Mmhmm… only
she is in to girls
. You can blame your aunties for that.
Caplan: Really? That's kinda hot.
*pokes him*
Caplan: *laughs and rubs his chest* I'm just sayin'…
A few important things happened this last semester that you'll find out just how much I am not keeping score… regardless as to what Meadow thinks.
The boys took off to class, I had Emma call Amar over, it was getting close to time for him to move back in…
This is how she greeted him, much to my delight. No sooner did she greet him, ACR kicked in to high gear. The
meandered to the hot tub
where 'nature' took over… by 'nature' I mean ACR. She
fell in love
…
he fell in love
…
I then yoinked them out of the hot tub and made her chose who she was getting engaged to. It was time for her to decided, one way or another, she would be
engaged by the end of the night
. Much to my surprise she had a want to be engaged with one of them. She's never had that want before so we acted on it. She is now
officially engaged
.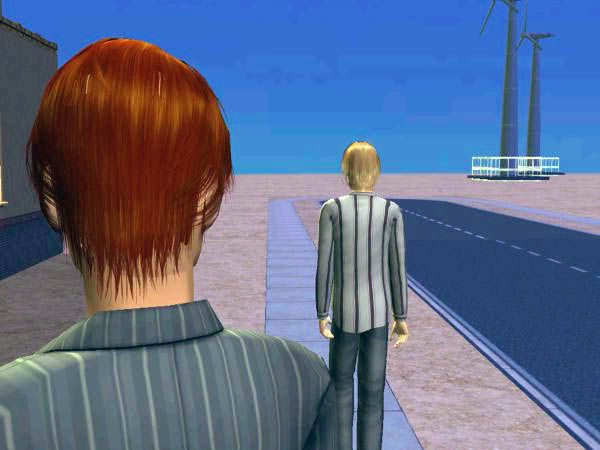 Caplan: Where's Derek off to?
Back to townie status… only this time as a young adult.
Caplan: I thought…
Ya well, your sister changed her mind. Don't make a big deal out of this okay?
Caplan: Okay… so what happens to him?
You invite him back your senior year to be the new GH placeholder.
Caplan: Harsh.
Meh.
Caplan: Remind me not to piss you off.
Oh now you learn?
Caplan: I've seen what you've done to him…
the bees
… the
poison ivy
…
fixing electronics
…
First off, his mechanics is maxed, second he wanted to hike and
tinker
…
Caplan: His OTH is nature…
*stares over his shoulder* Are you done yet?
Amar: This will not go any faster with you staring over my shoulder…
Maybe not, but you need to catch up to them. You're gonna have to buckle down. You have less than a semester to catch up to them.
Amar: I have to do 3 semesters in one?
Do you want to switch places with Derek again?
Amar: Hush woman, I have work to do.



Amar Lawson

– Cancer
Aspiration – Family
6 neat, 3 outgoing, 6 active, 4 playful, 6 nice
LTW – Become Captain Hero
Ack. Their last final and this greets them as they're exiting the building. *sighs* Thankfully only
one stopped
… at first… As soon as Alana calmed down,
Katherine started
, Caplan not wanting her to feel awkward for freaking about a
fire already out joined her
. For cripes sakes
go to your finals
! *headdesk* Thankfully, this
round in uni is finally over
.
End week accomplishments:
Alana joined
the SS
,
the GH
and wrote a
great novel
; Caplan joined the SS,
the GH
,
got engaged
and got a
plaque in sports
; Emma joined
the SS
, the GH, got engaged and got a
plaque in sports
; Katherine joined
the SS
, the GH, got
engaged
, got
big sim on campus
, got a
gold in gardening
and a
plaque in nature
; Amar was saved from redundant towniedom and Derek became the GH placeholder.
Points:
6 points
On-going subtotal:
84 points