Last Week:
We started out with a household of three sims, Andrew took a job in law enforcement and was last promoted to Desk Sergeant. Ashley dated Randy *swoon* London and the two are in puppy lub…
That weekend
, we had an impromptu visit from Russ Bear who was caught before he could run off with any of the goods and Gavin transitioned to teen
So it's a new week… not much happened so there you go… done! *blinks* What… you don't believe me? Ha! You know me better than that don't you... okay, let's see what my uneventful week has in store for us.
With two fortune sims in the house, it is understandable that this house is already rather lucrative…
Keeping in mind we have the magic lamp, both of the guys wished for wealth. I have not yet used the last wish. I'm not sure what it is I'm saving it for… hopefully I will know when the time comes.
So we finished up the house… here's the front….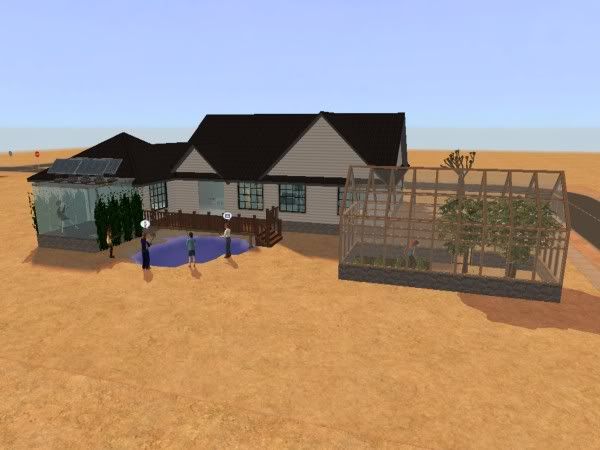 Here is the back… Outside it looks pretty good… inside, it needs work. I figure with two fortune sims, they will want upgraded things and I will eventually get rid of all their yuck furniture and update their walls and maybe some day I will even remember things like curtains.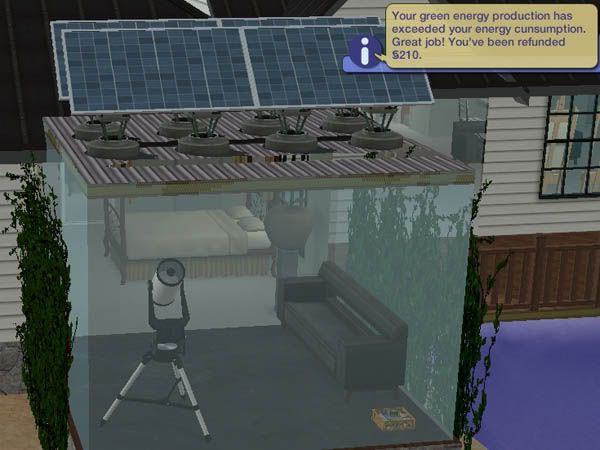 And thanks to investing in the sun panels, we no longer receive bills… we get refunds…
Andrew had a chance card, I was about to ignore it when I remembered I'm playing a prosperity… I'm not suppose to ignore them! So I bit my nails and picked…
Yay! Thankfully I picked well. I find myself holding my breath when I have to pick. I'm sure I'm not alone in that…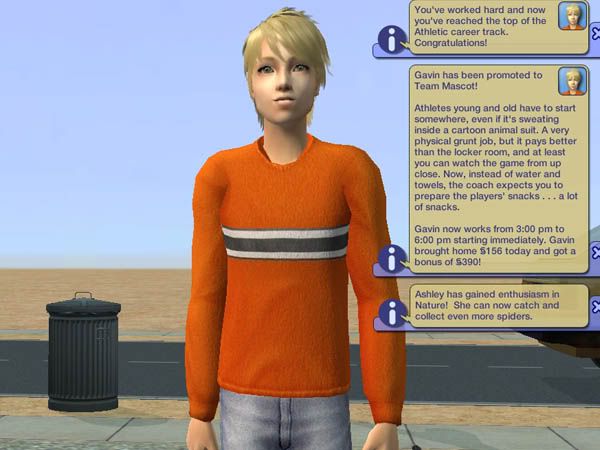 Seeing how the boy is a fortune sim, I make him get a job… and he reaches the top…
So he gets another job… that he reaches the top in… now that is an over achiever! Way to go kid.
Gavin invited Olivia and Luis over… not only does Ashley and Luis have negative bolts, they can't seem to talk about anything with out negative results… this is the only way these two get along at all.
Unfortunately, Gavin and Olivia only have 1 bolt. I know I can just raise Olivia's cleaning and possibly get 2 bolts, but I'm not sure I'm going to try and force their relationship… then again… why not? Olivia must have 3 kids… Gavin must have an heir… I don't know… I still have time to decide.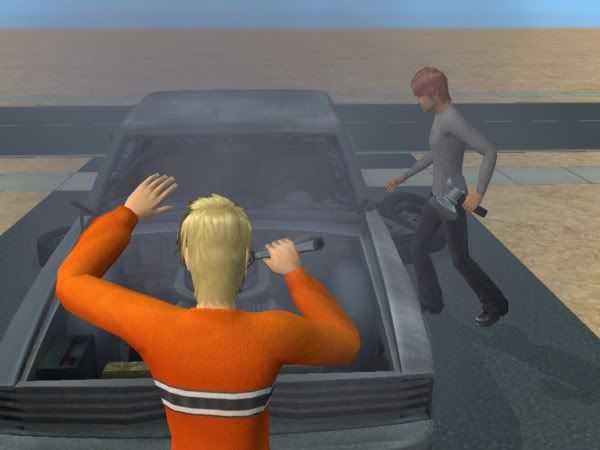 All three of them want to buy a car… but I'm much too cheap to give them one. So instead I gave them a heap and they fixed it. Got a few mechanical skills to go with it.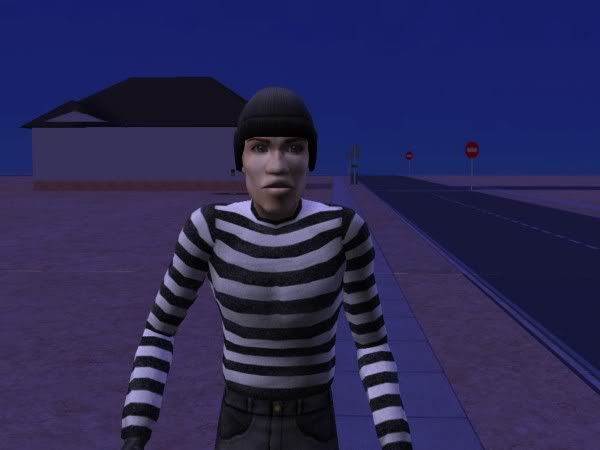 Ah, and our friend Russ Bear… I use the term 'friend' very loosely… came back for a visit. Who keeps letting this idiot out? Seriously!
Really, Russ? Really? Are you really surprised he's back, too? *facepalm* Its not as if I got rid of the burglar alarm! *sighs*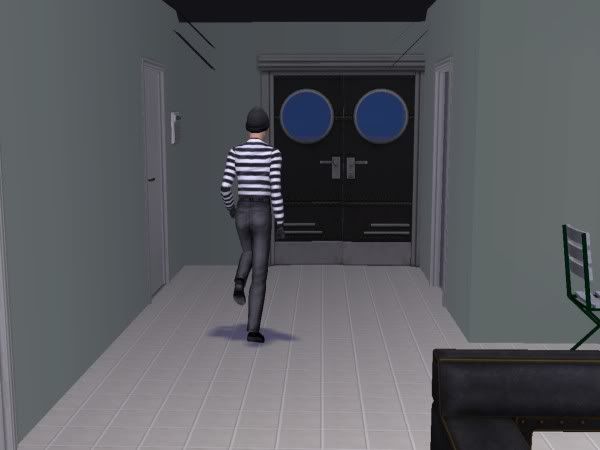 Unfortunately, this time he gets away. Thankfully he doesn't get a chance to steal anything before he wins the fight.
Are you ready for something utterly silly? The kids are getting off the school bus when Ashley gets the most bizarre thought in her head.
Pet the skunk? Are you sure you want to try that? In all my years playing the Sims… in all the time I have had skunks running around the yard… this is the first time ever that I've had someone autonomously want to pet the skunk or do anything with it.
So naturally I let her. And proceeded to laugh and photograph her foolishness.
Ya she was miserable… lets just hope she learned her lesson.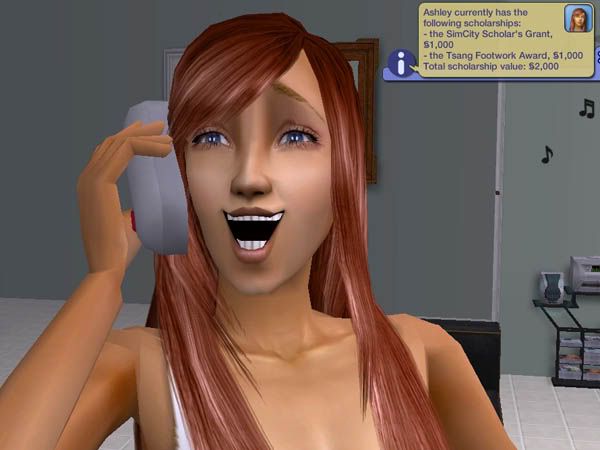 And off she went with her few skills, two scholarships and a silver gardening badge to college.
End week accomplishments:
Gavin reached TOC in Athletics and Adventurer, Andrew was promoted to Detective and Ashley went to college with two scholarships and a silver badge in gardening.
Points:
0 points
On-going subtotal:
7 points